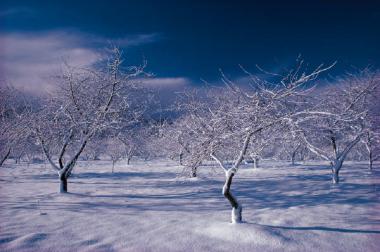 When it comes to the holidays are you thinking "I'll just be glad when it's all over with"? You're not alone. Many people believe that we've gotten away from the true meaning of the season, with consumerism and unrealistic expectations taking all the fun out of things. But that's not at all why you're dreading the holidays this year, is it? Have the holidays become "hollow days" because you don't have children yet or recently experienced a devastating pregnancy loss?
The holiday season means different things to us over the years. As a child it is a time of wonder and excitement. Everything seems to have a special sparkle about it. As a college student it is that welcome break that follows all night study sessions, term papers and final exams, and a time to eat mom's home cooking. It is a time of spiritual preparation and reflection and a time to realign priorities. And as adults we get the opportunity to rediscover magic through our children. But, when you long to be a parent, the holidays can become a painful reminder of what's missing in your life. Holiday traditions can seem hollow and empty without a child to share them with.
It's no wonder those struggling to build a family find themselves feeling increasingly stressed and sad as the holidays approach. Here are some tips to help you get through the next month and maybe even experience some joy along the way.
Bow out… with a plan: You certainly don't have to go to every party or gathering you're invited to, especially if seeing pregnant friends or new babies leave you bawling in the bathroom instead of enjoying the party. It may be helpful to plan something else special for that evening so you won't be focused on what you're missing.
Keep it brief: If you decide to attend an event, have a plan to hit the road early if you find yourself becoming upset.
Give it a rest: Take a vacation from the holidays this year, and while you're at it, how about a vacation from infertility? Get away to one of your favorite spots and spend some quality time with your honey.
Breathe: It's amazing how often we stop breathing when we become stressed. Make it a habit to be aware of your breath. Take several deep, cleansing breaths throughout the day. These mini-energizers can be real lifesavers.
Move: Exercise is a fabulous stress reducer and can even help you sleep better at night. Here's some ideas: take your dog for a brisk walk for 20 minutes a day, use that gym membership you keep threatening to cancel, call your best friend to go for a bike ride, take the stairs, go bowling… oh, and don' t you have inline skates somewhere in your garage?
Tickle your funny bone: How long has it been since you've had a good belly laugh? Look for opportunities to experience joy. Rent one of your all time favorite funny movies or make plans to go with some friends to a comedy club. Talk about stress reduction… there's nothing like a good laugh.
Have vs. have-nots: Start and end each and every day by focusing on all the wonderful things that are going well in your life. Fertility problems can totally eclipse your life and get you thinking about all that's missing, wrong or unfair. It's important to lend our energy to what's going right in your life.
Bend a trusted ear: Talk with your partner, a trusted friend or family member about what you're feeling. Be prepared to ask for the type of support you find most helpful, as those closest to you may not know how best to help.
And don't be afraid to reach out for professional guidance and support when you need to. We all need a helping hand from time to time.